Luxembourg Commemorative 2018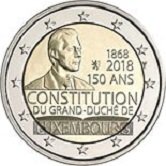 Details relating to the Luxembourg Commemorative of 2018.
Issue Date: 27.12.2017
Number Minted: 313,500
Mint: Kononklijke Nederlandse Munt N.V.,Utrecht
Mint Mark : Mercury's Wand.
---
This coin commemorates the 150th anniversary of the Luxembourg constitution.
In the upper left quadrant is an effigy of the reigning Grand Duke, looking to the right. In the upper right quadrant we see the inscriptions 1868,2018 and 150 ANS (150 years). The year of issue 2018 is preceded and followed by a lion (the Luxembourg national symbol) and the mint mark.
In the lower half of the inner circle are three inscriptions, one under the other.
CONSTITUTION
DU GRAND-DUCHÉ DE
LUXEMBOURG.
The inscription LUXEMBOURG is highlighted by having a lighter, rougher background than the rest of the coin and having the cross-section of an open book on top.
Once again Luxembourg has gone against the 2013 guidelines by having parts of the design intrude into the outer ring which is supposed to be reserved solely for the twelve stars of the EU.
Although this is a 2018 Commemorative Coin it was actually issued towards the end of 2017.
From Luxembourg Commemorative 2018 to euro coin collector.