Luxembourg Commemorative 2016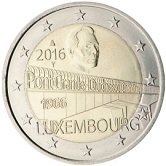 Details relating to the Luxembourg Commemorative of 2016.
Issue Date: 06.05.2016
Number Minted: 1,000,000
Mint: Kononklijke Nederlandse Munt N.V.,Utrecht
Mint Mark : Mercury's Wand.
---
The coin commemorates the 50th anniversary of the building of the Grand Duchess Charlotte Bridge.
This is a 355 meter long steel bridge and spans the Alzette valley connecting the center of Luxembourg with Kirchberg-Plateau which houses many EU institutions.
The coin has the bridge extending to the edge of the coin, right across the outer ring. This is a somewhat unusual feature, the outer ring being normally reserved solely for the twelve stars of the EU.
On the bridge we see the "Pont Grande-Duchesse Charlotte" and thereunder the year of construction 1966. Across the bottom the name of the issuing country LUXEMBOURG appears in an unusually large format. At the top is the reigning Grand Duke Henri and to the left of him the year of issue as well as the mint mark and the mark of the designer.
From Luxembourg Commemorative 2016 to euro coin collector.