Luxembourg Commemorative 2009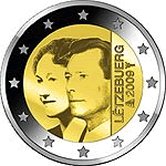 Details relating to the Luxembourg Commemorative of 2009.
Issue Date: 15.01.2009
Number Minted: 1,400,000
Mint: Kononklijke Nederlandse Munt N.V.,Utrecht
Mint Mark : Mercury's Wand.
---
This coin commemorates the 90th anniversary of the accession to the throne of the duchess Charlotte on 15th January 1919. She reigned from 1919 to 1964.
In the inner circle the duchess (left) is depicted next to the current ruling monarch Duke Henri.    
On the right hand side of the inner circle is an arc in which the issuing country LETZEBUERG and the year of issue 2009 are shown printed vertically.
To the right of the year is the mint mark (a Merkur Rod) and to the left is the sign of the mint director - a  triangle representing the sail of a boat.
From Luxembourg Commemorative 2009 to euro coin collector.