Luxembourg Commemorative 2008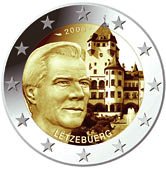 Details relating to the Luxembourg Commemorative of 2008.
Issue Date: 01.02.2008
Number Minted: 1,100,000
Mint: Monnaie de Paris,Pessac.
Mint Mark : Cornucopia.
---
I'm not sure what the occasion or reason for the minting of this coin is, other than that Luxemburg wished to mint a new coin!!
Any rate, in the inner circle we see Berg Castle on the right and an image of the reigning Grand Duke on the left. In Luxemburg the law requires that all coins bear the image of the reigning Grand Duke.
After extensive restoration work after the war the castle again became the residence of the Grand Duke in 1964.
The name of the issuing country is at the bottom while the year of issue 2008 is at the top between eleven and twelve o'clock and is flanked by the mint mark on the left and the sign of the Paris engraver on the right.
Most of the Luxemburg coins are minted in the Netherlands but this one was minted in France and this is attested by an "F" in the star at five o'clock. An interesting feature.
From Luxembourg Commemorative 2009 to euro coin collector.