Luxembourg Commemorative 2007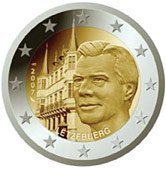 Details relating to the Luxembourg Commemorative of 2007.
Issue Date: 02.02.2007
Number Minted: 1,100,000
Mint: Monnaie de Paris,Pessac
Mint Mark : Cornucopia.
---
This coin does not seem to commemorate anything but would appear to have been issued simply because Luxembourg wished to issue a coin – still as collectors, we are happy to have another coin for our collection and a rather attractive one to boot.
In the inner circle we see the Grand duke against the background of the Grand Ducal palace.
The Palace was originally built in 1572 and around 1892 was extended and then became the Grand Ducal Palace. It is situated in the old quarter of Luxembourg.
On the left of the inner circle the year of issue 2007 is shown vertically. Above the year is the mint mark cornucopia and below the year is the sign of the engraver – a hunting horn with zodiacal sign pisces.
The name of the issuing country LETZEBUERG appears at the bottom.
Note - Luxembourg has its coins minted in various countries (The Netherland,Finland and France). The current issue was minted in France and this is evidenced by a small "F" stamped into the star at five o'clock in the outer ring.