Luxembourg Commemorative 2004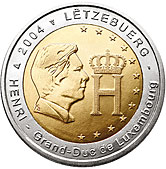 Details relating to the Luxembourg Commemorative of 2004.
Issue Date: 26.07.2004
Number Minted: 2,500,000
Mint: Mint of Finland Ltd.
Mint Mark : S and cone with coins
---
This coin was issued to commemorate the 80th anniversary of the use of the grand ducal monogram on Luxembourg coins.
The coin has a number of interesting features.
In the inner circle is the head of the Grand Duke, looking towards the left. On the right is the monogram, which has been produced with a patented technique known  as the Lasegravur-Technik (Minted Security Printing).
A very unusual feature is the appearance of the twelve stars of the EU within the inner circle.This is the only commemorative where this happens.
Within the outer ring ,going around the clock ,we have the issuing country "LËTZEBUERG" (twelve to two o'clock), "HENRI - Grand-Duc de Luxembourg"(seven to three o'clock), the year of issue "2004" (ten o'clock) and preceding and following the year, the sign of the mint director and the mint mark.
As from 2013 the outer ring is reserved solely for the twelve stars of the EU, as this it is believed will symbolically better represent European unity. 
From Luxembourg Commemorative 2004 to euro coin collector.