Lithuanian Commemorative 2019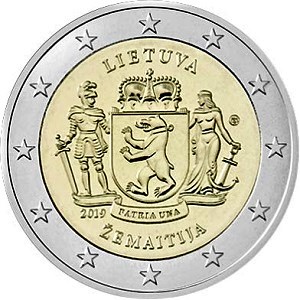 Details relating to the Lithuanian Commemorative of 2019.
Issue Date: 10.09.2019
Number Minted: 500,000
Mint:Lithuanian Mint
Mint Mark : LMK
---
This is the first coin of a new five-part series "Lithuanian Ethnographic Regions".
The region featured in this coin is Lower Lithuania. A distinctive dialect of Lithuanian - Shemaite  - is spoken in Lower Lithuania.

The motif of the coin is the coat of arms of the Duchy of Samogitia.
Occupying the centre of the inner circle is a bear on a shield and to the left of the bear is a knight bearing a sword and to the right of the bear is a woman resting on an anchor.

Under the shield is the Latin phrase "PATRIA UNA" which means one fatherland.
At the top of the inner circle running from eleven to one o'clock is the name of the issuing country "LIETUVA" and at the bottom of the inner circle running from seven to five o'clock is the name of the honoured province "ŽEMAITIJA".
Underneath the knight we see the year of issue 2019.



From Lithuanian Commemorative 2019 to euro coin collector.