Lithuanian Commemorative 2017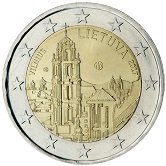 Details relating to the Lithuanian Commemorative of 2017.
Issue Date: 31.08.2017
Number Minted: 1,000,000
Mint:Lithuanian Mint
Mint Mark : LMK
---
This coin is dedicated to the capital of Lithuania, Vilnius.
The motif shows a part the Vilnius city panorama. The central motif, a free standing 68 meter high bell tower, is a landmark of the city. Vilnius has been in the UNESCO World Heritage Series since 1994 and was a European Capital of Culture ion 2009.
Around the edge of the inner circle we have at ten o'clock "VILNIUS", and from twelve to two o'clock "LIETUVA 2017". A little in from "LIETUVA" is the mint mark.
From Lithuanian Commemorative 2017 to euro coin collector.