Lithuanian Commemorative 2016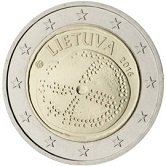 Details relating to the Lithuanian Commemorative of 2016.
Issue Date: 03.05.2016
Number Minted: 1,000,000
Mint:Lithuanian Mint
Mint Mark : LMK
---
This coin honors the Baltic culture. The Baltic is a geographical area that encompases the present republics of Estonia, Latvia and Lithuania.
In the inner circle we see a Bernstein Disc which is a characteristic symbol of Baltic culture.
The hole in the middle and cross formed from points bored into the surface represent the earth's axis.
At the top of the inner circle is Lithuania in the Lithuanian language. (Lietuva).
At ten o'clock is an artistic representation of the mint mark – LMK within a circle.
From Lithuanian Commemorative 2016 to euro coin collector.