Latvian Commemorative 2021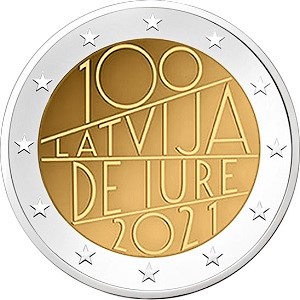 Details relating to the Latvian Commemorative of 2021.
Issue Date: 20.01.2021
Number Minted: 412,000
Mint:German Mint in Baden Würtemberg
Mint Mark : None
---
This coin commemorates the 100th anniversary of Latvia's existence as a soverign independent state. Although the Latvian War of Independence ended in 1920, international recognition only followed in 1921. 
The motif is fairly staight foward and shows four lines reading 100/LATVIJA/DE IURE/2021.
These lines of course show both the issuing country "LATVIJA" and the year of issue "2021".

Return from Latvian Commemorative 2021 to euro coin collector.