Latvian Commemorative 2020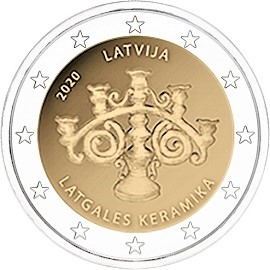 Details relating to the Latvian Commemorative of 2020.
Issue Date: 05.06.2020
Number Minted: 412,000
Mint: Lithuanian Mint in Vilnius.
Mint Mark : None
---
In the Latvian regions of Letgale (Latgale) and Kurzeme (Courland), abundant clay deposits provide material for the manufacture of pottery. Especially in Rēzekne in Latvia, this traditional craftsmanship has survived and forms part of the Latvian cultural heritage.
The coin motif depicts a glazed ceramic candle holder ( five-armed).is the motif of the coin designed by Gundega Rancāne.
At the top  of the inner circlen, running from ten o'clock to twelve o'clock is the inscription "2020" and "LATVIJA" (Latvia)
At the bottom of the inner circle, running from eight o'clöock to four o'clock is the inscription "LATGALES KERAMIKA" (Latvian ceramics).



Return from Latvian Commemorative 2020 to euro coin collector.