Latvian Commemorative 2019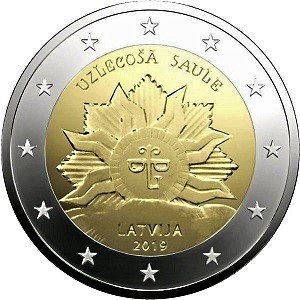 Details relating to the Latvian Commemorative of 2019.
Issue Date: 17.09.2019
Number Minted: 307,000
Mint:

Mint Mark : None
---
The motif of the new coin is the of the rising sun which is taken from the Latvian Coat of Arms.
The Coat of Arms was created in 1915 and the rising sun was symbolic of the rise of the new nation – there is also a connection to the silver sun of Latvian Mythology.
Filling out most of the inner circle is the rising sun. In the centre of the sun we see a stylized B and L which stand for "Briva Latvija" or "Free Latvia".
The gently waving lines at the bottom of the coin represent the dunes and hills of the Latvian coast.
Around the edge of the inner circle from ten o'clock to two o'clock is the inscription "UZLECOŠÀ SAULE" which is the Latvian for "The Rising Sun".
Finally, at the bottom of the inner circle the issuing country and the year of issue "LATVIJA" and "2019" can be seen.
Return from Latvian Commemorative 2019 to euro coin collector.