Latvian Commemorative 2018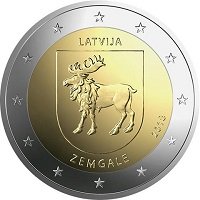 Details relating to the Latvian Commemorative of 2018.
Issue Date: 26.09.2018
Number Minted: 507,000
Mint:

Mint Mark : None
---
This is the fourth and last commemorative coin in the Latvian Series covering the four provinces of Latvia. The province now covered is Zemgale.
The motif of the coin is simply the coat of arms of the region of Zemgale. This is a silver elk.
At the top of the inner circle, under twelve o'clock  "LATVIJA".
At the bottom is the name of the province "ZEMGALE" and at four o'clock is the year of issue - 2018.
Return from Latvian Commemorative 2018 to euro coin collector.