Latvian Commemorative 2017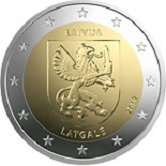 Details relating to the Latvian Commemorative of 2017.
Issue Date: 14.11.2017
Number Minted: 530,000
Mint:

Mint Mark : None
---
This is the third commemorative coin in the Latvian Series covering the four provinces of Latvia. The province now covered is Latgale.
The motif of the coin is simply the coat of arms of the region of Latgale. This is a griffin, a fantasy figure in heraldry – the upper part of the body is an eagle and the lower part a lion.
Above the shield is the country designation "LATVIJA"
At the bottom is the name of the province "LETGALE" and at four o'clock is the year of issue - 2017.
Return from Latvian Commemorative 2017 to euro coin collector.