Latvian Commemorative 2016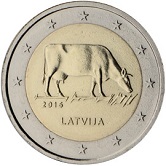 Details relating to the Latvian Commemorative of 2016.
Issue Date: 19.07.2016
Number Minted: 1,010,000
Mint:

Mint Mark : None
---
This is an extremely simple commemorative coin that shows no mint mark or any other intricacies.
In the centre of the inner circle a grazing cow is depicted. The cow is of the Latvian Brown breed which is kept both for milk and meat.
The year 2016 and the issuing country Latvia (Latvija) also appear within the inner circle.
The cow apparently represents "The History of Latvian Agriculture" which makes one wonder whether it may be the start of a series – unless of course this sole cow is the beginning and end of Latvian agriculture!!
The grazing cow was also depicted on one of the Latvian coins preceding the introduction of the Euro.
Return from Latvian Commemorative 2016 to euro coin collector.