Italian Commemorative 2021



Details relating to the Italian Commemorative of 2021.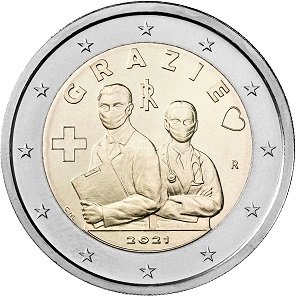 Issue Date: 22.06.2021
Number Minted: 3,000,000
Mint: Instituto Poligrafico e Zecca dello Stato S.p.A.,Roma.
Mint Mark : R
---
This coin has been minted to honour the health professions for their contribution in combating the Corona epidemic that struck Italy particularly hard.
The motif of the coin:

 The coin, dedicated to the health professions, shows a man and a woman in hospital gowns, with mouth and nose protection and a clipboard or stethoscope - representing all doctors and nurses who are fighting the pandemic and tirelessly struggling to get their patients healthy.
"GRAZIE" (thank you) is displayed at the top, followed by a ❤.
Underneath, the ligature "RI" (Repubblica Italiana, Italian Republic) is shown as a country abbreviation. A Greek cross symbolizing the red cross is shown on the left as ✙.
The year of issue "2021" is shown below, the mint mark "R" of the Istituto Poligrafico e Zecca dello Stato in Rome on the right and the initials "C.M." of the coin designer Claudia Momoni on the lower left.
Return from Italian Commemorative 2021 to euro coin collector.