Italian Commemorative 2020



Details relating to the Italian Commemorative of 2020.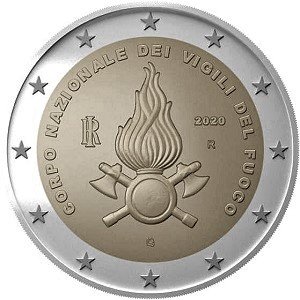 Issue Date: 20.01.2020
Number Minted: 3,000,000
Mint: Instituto Poligrafico e Zecca dello Stato S.p.A.,Roma.
Mint Mark : R
---
This coin commemorates the 80th anniversary of the foundation of the Italian national fire brigade.
The motif shows its logo - a flame underneath which are two crossed axes and a shield.
Around the edge of the inner circle, running from eight o'clock to four o'clock is the inscription "CORPO NAZIONALE DEI VIGILI DEL FUOCO" (National Corps of Fire Guards).
On the left near the flame and between nine and ten o'clock is the country designation - an I superimposed on an R.
On the opposite side of the flame between two and three o'clock is the year of issue "2020" and the mint mark "R".
Return from Italian Commemorative 2020 to euro coin collector.