Italian Commemorative 2017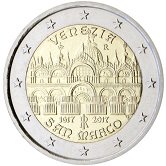 Details relating to the Italian Commemorative of 2017.
Issue Date: 22.03.2017
Number Minted: 1,500,000
Mint: Instituto Poligrafico e Zecca dello Stato S.p.A.,Roma.
Mint Mark : R
---
This coin commemorates the 400th Anniversary of the completion of the Basilica of San Marco in Venice
The Basilica was started in the 11th century and contains one of the largest mosaics in the Western world.
In the inner circle we see the Western Façade of the Basilica – this is regarded as a sign of the victory over Constantinople in the crusade of 1202/1204. Changes were made to the Basilica in the second half of the 14th century and the date of final completion is taken as 1617.
On the five arches of the western facade are the city patrons of Venice (left to right) Constantine, Demetrius, Marc, George and Theodore, and in the six tabernacles sculptures of the Archangel Gabriel, the Evangelists Matthew, Mark, Luke, John and Mary can be seen. In the pediment of the middle arch is a golden relief of the St. Mark's Lion with a book, whose inscription reads: "Pax Tibi Marce Evangelista Meus" - "Peace with you Mark, my Evangelist".
On the edge of the inner circle – eleven to one o'clock is the inscription "VENEZIA" and at the bottom from eight to four o'clock "SAN MARCO". The mint mark is in from one o'clock and the country designation an I superimposed on an R is under the façade in the middle. Flanking the country designation are the dates 1617 and 2017.
Return from Italian Commemorative 2017 to euro coin collector.