Italian Commemorative 2016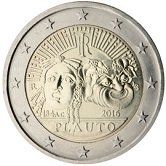 Details relating to the Italian Commemorative of 2016.
Issue Date: 21.05.2016
Number Minted: 1,500,000
Mint: Instituto Poligrafico e Zecca dello Stato S.p.A.,Roma
Mint Mark : R
---
This coin commemorates the Italian comedy poet Plauto – perhaps Roman comedy poet would be more appropriate as he lived from 254 B.C. to 184 B.C.
In the inner circle typical theater masks of the time are depicted. These shown are from a mosaic of about two centuries B.C. The characters represented are a young woman and a slave, the latter wearing a laurel wreath of grapes. The mask also suggests someone who was a devotee of Dionysus.
Around the upper half of the inner circle is a schematic representation of a Roman theater.
Italy is represented by an I superimposed on an R at twelve o'clock. The mint mark R and the initials of the designer are shown at nine o'clock and three o'clock respectively. At the bottom is a bar above which is the year 184 A.C.(B.C.) – the year of Plauto's death and the year of issue 2016.
Below the bar is the inscription "PLAUTO".
Return from Italian Commemorative 2016 to euro coin collector.