Italian Commemorative 2013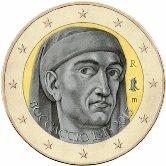 Details relating to the Italian Commemorative of 2013.
Issue Date: 25.07.2013
Number Minted: 10,000,000
Mint: Instituto Poligrafico e Zecca dello Stato S.p.A.,Roma
Mint Mark : R
---
This coin commemorates the 700th anniversary of the birth of the Italian writer Giovanni Boccaccio.
Boccaccio is regarded as a democrat and a representative of humanism. In his writings he insists that leadership needs legitimation and he warned the powerful that they would be nothing without the people. His concern for social equality led him to deal with a still to-day current topic – the situation of women in society.
His Magnum Opus was Decamerone a collection of 100 short novels dealing with contemporary life in the 14th century.
The motif in the inner circle shows the head of Boccaccio looking to the left. The image is taken from a fresco by Andrea del Castago.
Around the bottom of the inner circle is the inscription "BOCCACCIO 1313 2013". The issuing country is shown at three o'clock – An I superimposed on an R. The mint mark is at two o'clock and the sign of the artist "m" is between three and four o'clock.
Return from Italian Commemorative 2013 to euro coin collector.