Italian Commemorative 2008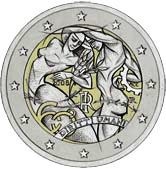 Details relating to the Italian Commemorative of 2008.
Issue Date: 15.10.2008
Number Minted: 2,500,000
Mint: Instituto Poligrafico e Zecca dello Stato S.p.A.,Roma
Mint Mark : R
---
The coin commemorates the 60th anniversary of the universal declaration of human rights.
The inner circle is rather crowded with images and symbols.
The following are depicted - a man and woman with an olive branch as well as an ear of corn, a cogwheel and barbed wire. These represent the right to peace, food and work. The broken strand of barbed wire and the broken chain represent the right to freedom.
The broken chain links appear between seven and eight o'clock and in the form "60".
At the bottom is an arc with the inscription " DIRITTI UMANI" (Human Rights).
Just below the centre of the coin are the superimposed capital letters R and I standing "Repubblica Italiana" (Italian Republic). The mint mark R is to be found between three and four o'clock. Finally the initials of the designer appear at three o'clock.
A very interesting commemorative coin.
As a matter of interest, both Portugal and Belgium have also produced coins commemorating the Universal declaration of human rights.
Return from Italian Commemorative 2008 to euro coin collector.