Italian Commemorative 2006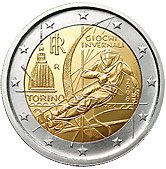 Details relating to the Italian Commemorative of 2006.
Issue Date: 10.02.2006
Number Minted: 18,000,000
Mint: Instituto Poligrafico e Zecca dello Stato S.p.A.,Roma
Mint Mark : R
---
This coin has been issued to celebrate the hosting of the XX. Olympic Winter Games of 2006 by Italy in Turin.
The design is somewhat crowded but nevertheless very interesting.
On the left is a well know land mark in Turin – the Mole Antonelliana. This is also on the normal Italian two cent coin. Under the Mole is the name of the guest city – TORINO".
A prominent feature is a racing skier above whose head is the inscription "GIOCHI INVERNALI" (Winter Games).
The year of issue 2006 is shown vertically around three o'clock. The sign of the issuing country is at eleven o'clock – an I superimposed on an R and the mint mark R is seen directly thereunder. Finally, the initials of the designer M.C.C. are underneath the skier.
Return from Italian Commemorative 2006 to euro coin collector.