Irish Commemorative 2016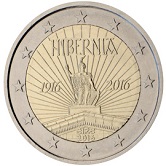 Details relating to the Irish Commemorative of 2016.
Issue Date: 20.01.2016
Number Minted: 4,500,000
Mint: Various
Mint Mark : none
---
This is first commemorative issued by Ireland and celebrates the Easter uprising in 1916.
The Easter uprising was led by militant republicans and was an attempt to gain independence from Great Britain. The attempt failed initially but the momentum which started then led finally to independence for Ireland in 1917.
In the inner circle the statue of Hibernia is shown standing on the roof of the main post office in Dublin. The taking of the main post office was the start of the 2016 uprising.
The statue is symbolic for Ireland and was named after the Greek name for Ireland (Hibernia).
The statue holds a harp in the left hand and a spear in the right – presumably symbolizing the desire for peace coupled with the determination to defend its independence.
The name Hibernia is above the statue and is written in the same script as was used in the famous "Book of Kells".
The sun rays in the background represent the birth of a new nation.
At the bottom we EIRE,the correct (Irish) appellation for Ireland and the year of minting 2016.
The coin has no mint mark.
Return from the Irish Commemorative 2016 to euro coin collector.