Greek Commemorative 2017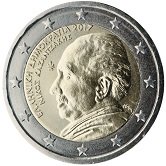 Details relating to the Greek Commemorative of 2017.
Issue Date: 10.07.2017
Number Minted: 750,000
Mint: National Mint Halandri
Mint Mark : Acanthus Leaf.
---
This coin commemorates the 60th anniversary of the death of Nikos Kazantzakis..
Kazantzakis was one of the most important writers of 20th century Greece, who is perhaps best remembered for his novel Alexis Sorbas.
The design features a profile portrait of Nikos Kazantzakis, looking to the left.
Around the edge of the inner circle from eight to twelve o'clock is the inscription: "ΕΛΛΗΝΙΚΗ ΔΗΜΟΚΡΑΤΙΑ 2017" (Hellenic Republic 2017). Underneath this is a second inscription: "ΝΙΚΟΣ ΚΑΖΑΝΤΖΑΚΗΣ" (Nikos Kazantzakis).
Next to the forehead is the mint mark and at four o'clock are the initials of the designer ΣTAM.
Return from Greek Commemorative 2017 to euro coin collector.