Greek Commemorative 2017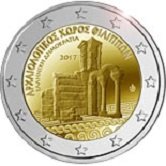 Details relating to the Greek Commemorative of 2017.
Issue Date: 12.10.2017
Number Minted: 750,000
Mint: National Mint Halandri
Mint Mark : Acanthus Leaf.
---
The coin features the Archaeological site of Philippi.
Philippi was founded by Philip II of Macedonia in 356 BC. Philippi was declared part of the UNESCO  World Heritage Series in 2016.
In the inner circle is a depiction of par of the ruins of the 6th century Basilica B. There are patterns underneath the basilica which represent the floor of the neighboring Octagon church.
Around the edge of the inner circle, from nine to two o'clock is the inscription "ΑΡΧΑΙΟΛΟΓΙΚΟΣ ΧΩΡΟΣ ΦΙΛΙΠΠΩΝ "(Archaeological Site of Philippi) and thereunder "ΕΛΛΗΝΙΚΗ ΔΗΜΟΚΡΑΤΙΑ"(Hellenic Republic). Under ΔΗΜΟΚΡΑΤΙΑ is the year of issue 2017.
The mint mark is at three o'clock and the monogram of the artist (ΣTAM ) is at eight o'clock.
Return from Greek Commemorative 2017 to euro coin collector.