Greek Commemorative 2016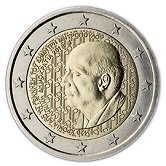 Details relating to the Greek Commemorative of 2016.
Issue Date: 16.12.2016
Number Minted: 750,000
Mint: National Mint Halandri
Mint Mark : Acanthus Leaf.
---
The coin commemorates the 120th birthday of Dimitri Mitropoulos.
Mitropoulos is regarded as one of the outstanding conductors of the 20thcentury and became a prominent representative in the cultural life of Greece. He was the musical director of the New York Philharmonic Orchestra from 1951 to 1957.
He is seen in the inner circle surrounded by musical notes.
The  mark of the designer can be seen in the collar on the bust.
Around the edge of the inner circle is printed "120 XPONIA AΠO TH ΓENNHΣH TOY ΔHMHTPH MHTPOΠOYΛOY" (120th birthday of Dmitri Mittropoulos) and "EΛΛHNIKH ΔHMOKPTIA 2016" (Hellenic Republic 2016).
The mint mark near eleven o'clock.
Return from Greek Commemorative 2016 to euro coin collector.