Greek Commemorative 2014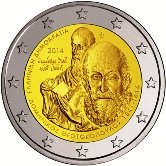 Details relating to the Greek Commemorative of 2014.
Issue Date: 24.09.2014
Number Minted: 750,000
Mint: National Mint Halandri
Mint Mark : Acanthus Leaf.
---
The coin commemorates the 400th Anniversary of the death of the Greek Painter (El Greco) who spent most of his working life in Toledo in Spain.
El Greco is simply the Spanish for "The Greek" as he was known. His actual name was Domínikos Theotokóoulos". Mostly famous for his paintings – mainly of religious themes - he also worked as a sculpture and architect.
In the inner circle on the right is a self portrait of El Greco and centre left is an extract from his painting showing the apostle Paul. Around the bottom rim of the inner circle is his name in the Hellenic script as well the dates of birth and death.  "ΔOMHKOΣ θEOTOKOΠOYΛΟΣ 1541-1614".
Around the upper right of the inner circle is the name of the issuing country – also in the Hellenic script. "EΛΛHNIKH ΔHMOKPATIA".
Also in the upper left quadrant is the year of issue and thereunder El Greco's signature. Finally the mint sign is seen at one o'clock and the initials of the engraver  "ΣTAM" somewhat concealed in the folds of the sleeve – bottom left between seven and eight o'clock.
Return from Greek Commemorative 2014 to euro coin collector.