German Commemorative 2020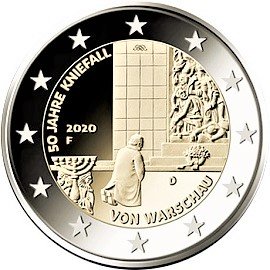 Details relating to the German Commemorative of 2020.
Issue Date: 08.10.2020
Number Minted: 30,000,00
(Note: German coins differ from those of the other Eurozone countries in that they are minted in five different locations and there are different mint marks that can appear on German coins.)
Mint location and corresponding Mint mark : 
Berlin  - A
Munich - D
Stuttgart - F
Karlsruhe - G
Hamburg - J
---
This coin commemorates the 50th anniversary of the visit of Willy Brandt to the Warsaw Ghetto where he laid a wreath in honour of the uprising of the Ghetto in 1943.
After laying the wreath Brandt fell on his knees and observed a short period of silence. This act of humility, acknowleging the crimes admitted by the Nazis and tacitly asking for forgiveness helped in some measure to further the rapproachement between Poland and Germany.
The motif of the coin is simply a representation of this act. We see Brandt on his knees in front of the memorial.
On the edge of the inner circle between seven and eight o'clock is a seven-armed candlestick which is symbolic of Judaism.The candle stick is flanked by two lions.
Further inscriptions appear around the edge of the inner circle are:
i) from nine o'clock to eleven o'clock "50 JAHRE KNIEFALL" (50 years genuflexion) and
ii) from six o'clock to four o'clock "VON WARSCHAU" (of Warsaw).
Just in from nine o'clock we see the year of issue "2020" and the mint sign - in this case "F".
Finally, just under the wreath is the country designation "D" - (Deutschland/Germany)

Return from German Commemorative 2020 to euro coin collector.