German Commemorative 2020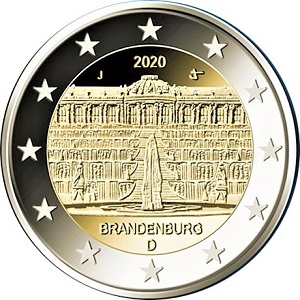 Details relating to the German Commemorative of 2020.
Issue Date: 28.01.2020
Number Minted: 30,000,00
(Note: German coins differ from those of the other Eurozone countries in that they are minted in five different locations and there are different mint marks that can appear on German coins.)
Mint location and corresponding Mint mark : 
Berlin  - A
Munich - D
Stuttgart - F
Karlsruhe - G
Hamburg - J
---
This is the 14th coin in the German series of the different provinces in the country.
The honoured province this year is Brandenburg and Sanssouci Palace has been chosen to represent Brandenburg.
The name of the palace - Sanssouci -  is from the French sans souci which means without worry.
Sanssouci Palace is one of the most famous Hohenzollern castles in the Brandenburg capital of Potsdam.
The Prussian King Friedrich II had the place built in the years 1745 to 1747. In 1990 the palaces and parks of Potsdam and Berlin were declared a World Heritage Site.
The motif of the coin shows the south side of the palace. In front of the palace we see a terraced vineyard.
Frederick the Great wanted  to be buried on the top vineyard terrace and this finally took place in 1991.
Near the edge of the inner circle at eight and four o'clock are two fountain statues. On the left (eight o'clock) is Venus representing love and on the right (four o'clock) is Mercury representing death.
At the top of the inner circle (twelve o'clock) is the year of issue - 2020 and to the left (eleven o'clock) is the mint mark. At one o'clock are the initials ("JT") designer Jordi Truxa.
Finally at the bottom is the name of the province BRANDENBURG and the mark of the issuing country "D".
Return from German Commemorative 2020 to euro coin collector.