German Commemorative 2015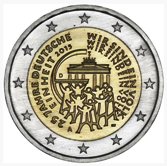 Details relating to the German Commemorative of 2015.
Issue Date: 30.01.2015
Number Minted: 30,000,00
(Note: German coins differ from those of the other Eurozone countries in that they are minted in five different locations and there are different mint marks that can appear on German coins.)
Mint location and corresponding Mint mark : 
Berlin  - A
Munich - D
Stuttgart - F
Karlsruhe - G
Hamburg -J
---
This coin celebrates 25 years of German unification. On 3rd October 1990 the DDR (German Democratic Republic) became a part of The Federal Republic of Germany. There were no longer two Germanies (commonly called West Germany and East Germany) but now one united nation. The 3rd October is now the National Day of Germany.
The motif, in the inner circle, shows people celebrating in front of the Brandenburg Gate in Berlin. The Brandenburg Gate is also the motif on the German 10,20 and 50 cent coins.
On the left side of the inner circle is the inscription "25 Jahre Deutsche Einheit"     (25 years German Unity). On the right side is the inscription, repeated three times, "Wir sind ein Volk" (We are one people).
At five o'clock are the initials of the designer "BW" and at seven o'clock is the mint mark.
Return from German Commemorative 2015 to euro coin collector.