German Commemorative 2015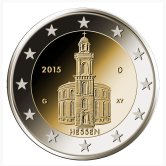 Details relating to the German Commemorative of 2015.
Issue Date: 30.01.2015
Number Minted: 30,000,000
Mint: Staatlich Münze Berlin(Munich,Stuttgart,Karlsruhe,Hamburg)
Mint Mark : A,D,F,G,J – depending on where the coin was minted.
(Note: German coins differ from those of the other Eurozone countries in that they are minted in five different locations and there are different mint marks that can appear on German coins.)
---
This is the 10th coin in the series representing the various German provinces.
The current coin shows the Paulskirche (St.Paul's Church) in Frankfurt am Main which represents the province of Hessen.
The church was built in the period 1789 to 1833(so over 44 years!) – it replaced the earlier church which was demolished in 1786. The church was damaged during the war, rebuilt and consecrated in 1948.
The main reason the church was chosen was that in was the seat of Germany's first truly freely elected legislative body. It can be seen as the cradle of German democracy and therefore has great symbolic value.
At the bottom of the inner ring is the name of the province – Hessen.
The national identity mark D (Deutschland) appears at two o'clock and the initials of the designer appear at four o'clock. Finally the mint mark appears at eight o'clock. – remember this can be either A,D,F,G,H depending on where the coin you have happens to have been minted.
Return from German Commemorative 2015 to euro coin collector.