German Commemorative 2013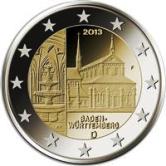 Details relating to the German Commemorative of 2013.
Issue Date: 01.02.2013
Number Minted: 30,000,000
Mint: Staatlich Münze Berlin(Munich,Stuttgart,Karlsruhe,Hamburg)
Mint Mark : A,D,F,G,J – depending on where the coin was minted.
(Note: German coins differ from those of the other Eurozone countries in that they are minted in five different locations and there are different mint marks that can appear on German coins.)
---
This is the 8th coin in the series representing the various German provinces.
The current coin shows the Maulbronn Monastery which represents the province Baden-Württemberg. The Monastery was founded in1147 by the Cistercians and is held to be one of best preserved monasteries in Europe. In 1993 it became part of the UNESCO World Heritage.
The coin shows on the left the interior of the fountain house and to the right we see the Western façade of the monastery.
At the bottom is the "D" for Germany (Deutschland) and between two and three o'clock is the mint mark which can A, D,F,G, or J depending on which of the five German mints the coin was minted in.
Return from German Commemorative 2013 to euro coin collector.