German Commemorative 2013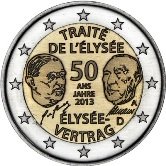 Details relating to the German Commemorative of 2013.
Issue Date: 22.01.2013
Number Minted: 11,500,000

(Note: German coins differ from those of the other Eurozone countries in that they are minted in five different locations and there are different mint marks that can appear on German coins.)
Mint location and corresponding Mint mark : 
Berlin  - A
Munich - D
Stuttgart - F
Karlsruhe - G
Hamburg - J
---
This coin was issued to commemorate the 50th anniversary of the signing of the German-French friendship treaty.
It is unique in that it is the only commemorative coin issued jointly by two Euro countries.
The friendship treaty was an important milestone in the reconciliation between the two countries and it marked the beginning of a period of co-operation in many areas – political, economic, cultural, scientific and many others.
On the inner circle are the profiles of the two heads of state who signed the treaty.
On the left, looking to the right, is de Gaulle and on the right, looking to the left is Adenauer. Underneath each are their signatures. The treaty which was formally known as the "Élysée Treaty" is shown at the top in French – TRAITE DE L'ÉLYSEE – and at the bottom in German – ÉLYSÉE-VERTRAG.
Between the is the inscription "50 ANS JAHRE 2013". Ans and Jahre being the French and German for years.
The country designation and the mint mark appear around four o'clock. These in effect constitute the sole difference between the German and French mintings of the coin.
Return from German Commemorative 2013 to euro coin collector.