German Commemorative 2008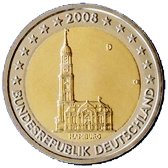 Details relating to the German Commemorative of 2008.
Issue Date: 01.02.2008
Number Minted: 30,000,000
Number Minted: 30,000,00
(Note: German coins differ from those of the other Eurozone countries in that they are minted in five different locations and there are different mint marks that can appear on German coins.)
Mint location and corresponding Mint mark : 
Berlin  - A
Munich - D
Stuttgart - F
Karlsruhe - G
Hamburg - J
---
This is the third coin in the German series representing the provinces.
This year is the town Hamburg. Hamburg together with Bremen and Berlin enjoy the status of a province (Land) although they are in fact towns.
The motif chosen for Hamburg is the "Hamburger Michael" which is the affectionate name given by the citizens of Hamburg and many sailors to St. Michaelis church in Hamburg. The church is a landmark easily seen by sailors on inbound ships.
The church is dedicated to the archangel Michael and a bronze statue of the good St. Michael conquering the devil is above the main portal of the church. The tower of the church is 132 meters high and the clock on the tower with a diameter of eight meters is the biggest in Germany.
Under the church is the name of the province "HAMBURG", at eight o'clock the mint sign and at three o'clock the initials (OE) of the designer.
The country of issue "BUNDESREPUBLIK DEUTSCHLAND" appears boldly in the bottom half of the outer ring. From 2010 onwards a simple "D" was used to stand for Germany. This appeared in the outer ring until 2013 when it is in the inner circle.
The same is true of the year of issue, which in this coin appears at the top of the outer ring.
From 2013 onwards the outer ring, for all euro Commemorative Coins, has been reserved solely for the twelve stars of the EU as this is held to better represent European unity.
Return from German Commemorative 2008 to euro coin collector.