German Commemorative 2007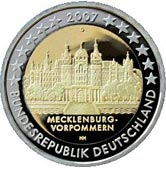 Details relating to the German Commemorative of 2007.
Issue Date: 02.02.2007
Number Minted: 30,000,00
(Note: German coins differ from those of the other Eurozone countries in that they are minted in five different locations and there are different mint marks that can appear on German coins.)
Mint location and corresponding Mint mark : 
Berlin  - A
Munich - D
Stuttgart - F
Karlsruhe - G
Hamburg -J
---
This is the second of the German series of commemorative coins representing the provinces of Germany. This one represents Mecklenburg – Vorpommern.
Shown in the inner circle is Schwerin Palace. Is stands on Schlossinsel (Palace island) in the middle of the provincial capital. The palace is also the seat of the provincial government. The palace incorporates many building styles and has indeed been in a state of growth and change for over 1.000 years.
The mint mark can be seen at the top of the inner circle at exactly twelve o'clock.
The initials of the engraver "HH" appear at the bottom (six o'clock).
The country of issue "BUNDESREPUBLIK DEUTSCHLAND" appears boldly in the outer ring. From 2010 onwards a simple "D" was used to stand for Germany. This appeared in the outer ring until 2013 when it is in the inner circle. The same is true of the year of issue. From 2013 onwards the outer ring,for all euro Commemorative Coins, has been reserved solely for the twelve stars of the EU as this is held to better represent European unity.
Return from German Commemorative 2007 to euro coin collector.