German Commemorative 2006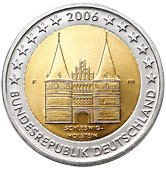 Details relating to the German Commemorative of 2006.
Issue Date: 03.02.2006
Number Minted: 30,000,00
(Note: German coins differ from those of the other Eurozone countries in that they are minted in five different locations and there are different mint marks that can appear on German coins.)
Mint location and corresponding Mint mark : 
Berlin  - A
Munich - D
Stuttgart - F
Karlsruhe - G
Hamburg - J

---
This is the first German commemorative coin and  the first in the German series of 16,each of which will represent one of the provinces of Germany.
The province represented in this coin is Schleswig-Holstein, Germany's northernmost province bordering on Denmark.
The motif chosen by Schleswig-Holstein to represent it is the Holstentor in Lübeck. The Holstentor together with the Hansestadt Lübeck became a part of the UNESCO World Heritage Program in 1987.
The Holstentor was built as a city gate, forming the Western boundary of Lübeck's inner city. At the bottom of the inner circle the name of the province appears. At nine and three o'clock the mint mark and the initials of the designer are to be seen.
The issuing country "BUNDESREPUBLIC DEUTSCHLAND" appears boldly around the lower half of the outer ring.
From 2013 onwards the outer ring, for all euro Commemorative Coins, has been reserved for the twelve stars of the EU.

The Holstentor also appeared on the old 50 DM note.
Return from German Commemorative 2006 to euro coin collector.