French Commemorative 2022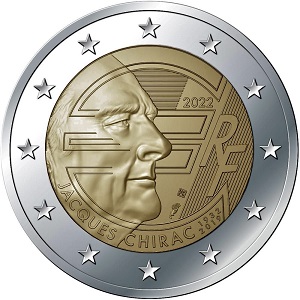 Details relating to the French Commemorative of 2022.
Issue Date: 25.01.2022
Number Minted:  9,000,000

Mint: Monnaie de Paris,Pessac
Mint Mark : Cornucopia
---
This coin has been issued in honour of the 90th anniversary of Jacques Chirac's birth.
Jacques Chirac was the president of France when the Euro became the official currency of the EU in 2002 - so in a sense this coin can also be seen as commemorating the 20th anniversary of the Euro's existence. Chirac is also seen as a great advocate of the EU and of EU unity.
The motif of the coin shows a determined looking President Chirac looking ahead.
Also seen, running around the left side of the inner circle (from two o'clock, anti clockwise, to four o'clock) is a bold representation of the symbol for the Euro.
The issuing country (France) is shown by "RF" just in from three o'clock.
Within the Euro symbol from eight to four o'clock is the inscription "JACQUES CHIRAC" together with his date of birth and date of death (1932 2019).
A series of parallel lines on the right side of the coin (sloping to the right ) and a series of horizontal parallel lines near the top of the inner circle together give a somewhat abstract representation of the French flag.
Finally, in from two o'clock is the year of issue 2022 and above "CHIRAC"  the mint marks are shown.

All in all an interesting and appealing coin.
Return from French Commemorative 2022 to euro coin collector.