French Commemorative 2021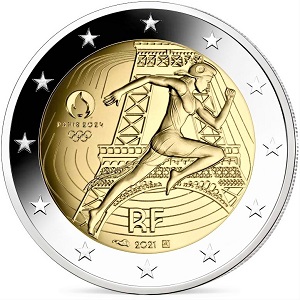 Details relating to the French Commemorative of 2021.
Issue Date: 21.09.2021
Number Minted: 510,000

Mint: Monnaie de Paris,Pessac
Mint Mark : Cornucopia
---
This coin is the first in a four part series that France intends to isuue to celebrate the French hosting of the Summer Olympics which will take place from 26th July until 11th August in 2024 in Paris.
France has produced a very imposing motif for this first coin.
Th national figure of France, Marianne,wearing a Phryian cap, is seen sprinting in a way reminiscent of the style of the original Olympics in ancient Greece.
She is seen against the backdrop of the Eiffel Tower. Also running roughly around the edge of the inner circle is an artistic representation of the running tracks of the Stade de France where the games will be hosted.
Just in from the inner circle between nine and ten o'clock is the logo of the Games - the Olympic flame under which we see the venue and the year  "Paris 2024"  and under these the five Olympic rings.
At the bottom just above six o'clock is an artistic representation of the country designation "RF".
Below that is the year of issue "2021" which is flanked on the left by the mint mark (a cornucopia) and on the right by the mark of the designer Joaquin Jimenez - a square with some difficult to read inscriptions.
One of the most impressive Commemorative coins produced to date I think. Let us hope the following three will be of like standard. 
Return from French Commemorative 2021 to euro coin collector.