French Commemorative 2020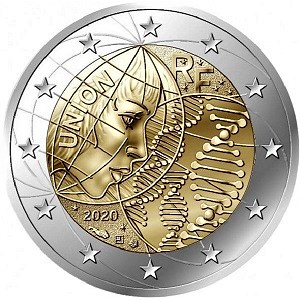 Details relating to the French Commemorative of 2020.
Issue Date: 18.10.2020
Number Minted:  310,000

Mint: Monnaie de Paris,Pessac
Mint Mark : Cornucopia
---
The motif of the, designed by Joaquin Jimenez, is interesting and shows a woman looking at a microcosm together with the famous DNA Helix.
In detail:
In the upper left of the coin we see a young woman whose head is within a stylised globe (presumably representing the earth) looking through a microscope (not shown). Within another circle,overlapping the globe, the famous DNA double helix is to be seen. Running round the edge of the inner circle, from nine o'clock to eleven o'clock is the bold inscription "UNION".

In the upper right, at one o'clock are the initials RF representing the issuing country France.
In the bottom left,between six and eight o'clock, we see the year of issue "2020" together with the mint mark (a cornucopia), the mark of the designer (a square) and the mark of the coin designer ( a pentagon).
A very intersting and attractive coin.

Return from French Commemorative 2020 to euro coin collector.