French Commemorative 2018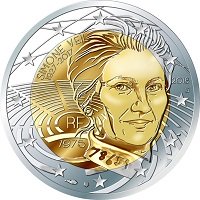 Details relating to the French Commemorative of 2018.
Issue Date: 26.06.2018
Number Minted: 15,000,000
Mint: Monnaie de Paris,Pessac
Mint Mark : Cornucopia
---
The coin honours Simone Veil.
Simone Veil survived deportation to the Auschwitz concentration camp but lost some of her family during the holocaust. She later became one of the most important figures in the re-construction of Europe and was the first elected President of the European Parliament.
She also served as president of the foundation to the memory of the holocaust and was minister of Health under Valéry Giscard d'Estaing's government where she was an active fighter for women's rights. She was elected to the prestigious Académie française in November 2008.
The motif for the coin is interesting, bold and packed with many symbolic references.
Dominating, on the right of the inner is a portrait of Simone Veil, looking to the right. In the upper half of the inner circle are circular rows of seats which look a bit like a Roman amphitheatre but actually represent the plenary hall of the European Parliament in Strasbourg. In the middle of these rows is the country identification "RF". Beneath RF are the numbers 1975 and 78659. The first is the year in which Veil got the abortion law passed and the second is the number that was tattooed on her in Auschwitz.
On the edge of the inner circle between ten and eleven o'clock is the inscription "SIMONE VEIL" and thereunder her years of birth and death – 1927-2017.  In the outer ring at three o'clock is the year of issue 2018 and between six and seven o'clock we see the mint mark and the mark of the mint master.
The guidelines of 2013 which require that the outer ring be left solely for the twelve stars of the EU and especially that nothing come between any of the stars ( as this symbolically disrupts the unity within the EU), have been completely thrown overboard in this commemorative coin with many intrusions into the outer ring. Whether this means the guidelines no longer hold or whether the French simply ignored them, I don't know.
Return from French Commemorative 2018 to euro coin collector.