French Commemorative 2016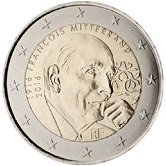 Details relating to the French Commemorative of 2016.
Issue Date: 12.09.2016
Number Minted: 10,000,000
Mint: Monnaie de Paris,Pessac
Mint Mark : Cornucopia
---
This coin is in honour of French politician François Mitterrand(1916-1996) and commemorates the 100th anniversary of his birth.
He occupied the office of French president from 1981 to 1995.
The motif is simply an effigy of Mitterrand in thoughtful pose, looking to the right.
Around the edge of the inner circle from nine to two o'clock is the inscription :"1916 FRANÇOIS MITTERRAND". Directly under 1916 is the year of issue 2016. Between five and six o'clock is the country designation "RF".
To the right of Mitterrand's face, just in from three o'clock is his personal symbol – an oak with an olive branch. Between three and four o'clock are the mint mark and the mark of the engraver.
Return from French Commemorative 2016 to euro coin collector.