French Commemorative 2016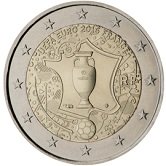 Details relating to the French Commemorative of 2016.
Issue Date: 05.02.2016
Number Minted: 10,000,000
Mint: Monnaie de Paris,Pessac
Mint Mark : Cornucopia
---
This coin was issued to celebrate the European Football Championship which took place in France. (UEFA Football EM 2016). The event lasted from 10th June to 10th July 2016.
In the middle of the inner ring is the trophy of Henri-Delaunay. Henri Delaynay (1833-1955)  was a famous French footballer and also general secretary of UEFA. It was his idea to have a European football championship. The trophy is shown within the borders of France.
The mint mark (cornucopia) is shown to the left of the base of the trophy but within the outline of France. Various other graphical elements representing the logo and design of the event give the coin an interesting and lively feel.
Of interest is a football, shown at the bottom of the inner ring, in the traditional form – the surface covered with pentagons and hexagons. This was used at all official tournaments from 19701 to 2010.
The inscription: "UEFA EURO 2016 FRANCE" is on the edge of the inner circle between ten and two o'clock.

On the right (three o'clock) is RF – standing for France.
Return from French Commemorative 2016 to euro coin collector.