French Commemorative 2015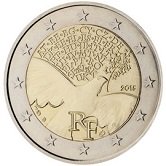 Details relating to the French Commemorative of 2015
Issue Date: 02.02.2015
Number Minted: 4,000,000
Mint: Monnaie de Paris,Pessac
Mint Mark : Cornucopia
---
This coin was issued to honour the peaceful functioning of Europe since 1945 – 70 years of peace. It seems the EU bureaucrats have forgotten the bombing of Serbia!
The interesting and attractive motif shows the dove of peace and above it in a fan form the 28 members of the EU are represented by initials for each country. Although there are only 23 states in the EU using the EURO as official currency, some EU members are outside of the EURO zone -e.g. Poland, Hungary, United Kingdom.
The dove holds a small branch in its beak and it sports twelve leaves in the form of the twelve stars of the EU. At the bottom in Bold Form is the country designation RF. The year of issue 2015 is at three o'clock. At eight o'clock are the mint mark and mark of the mint master and just before five o'clock is the mark of the designer.
Return from French Commemorative 2015 to euro coin collector.