French Commemorative 2011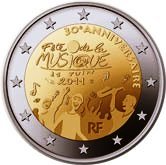 Details relating to the French Commemorative of 2011
Issue Date: 21.06.2011
Number Minted: 10,000,000
Mint: Monnaie de Paris,Pessac
Mint Mark : Cornucopia
---
The coin commemorates the 30th anniversary of the "Fête de la Musique".
The festival takes place every year on the longest  day of the year. Both professional and amateur musicians play in public places. There is a general air of fun and musical appreciation.
The inner circle depicts, in stylized fashion, a cheerful crowd of people.
Also seen is a musical instrument and scattered musical notes. In the upper half the words Fête de la Musique and the date 21 Juin 2011 appear.
At the top – twelve o'clock to three o'clock – are the words "30e  Anniversaire".
To the left of the year is the mint mark cornucopia and to the right the mark of the mint master – a pentagon.
Return from French Commemorative 2011 to euro coin collector.