Finnish Commemorative 2018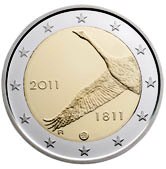 Details relating to the Finnish Commemorative of 2018.
Issue Date: 22.10.2018
Number Minted: 1,000,000
Mint: Mint of Finland Ltd.
Mint Mark : Lion.
---
This is the second Finnish Commemorative Coin issued this year and like the first one celebrates an aspect of Finnish culture – this time the sauna culture. The sauna plays a big part in Finnish life and it is estimated that on average there is one sauna per household. The sauna is seen as a place to relax both physically and mentally with family and friends.
The coin's motif in the inner circle is an idyllic country scene with forest, lake and small islands in the lake and towards the bottom of the coin in the centre is a small hut within which is the sauna. Smoke rises from the chimney and in the background two further columns of smoke are seen rising, this indicating the popularity of saunas.
The hut is flanked by two trees native to the Finnish forest – on the left an aspen and on the right a birch.
On the edge of the inner circle we see between eight and nine o'clock the country designation "FI", at six o'clock the year of issue "2018" and between two and three o'clock the mint mark.
The coin was designed by Ekki Vainio.
Return from Finnish Commemorative 2018 to euro coin collector.