Finnish Commemorative 2017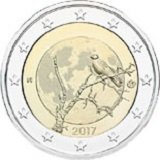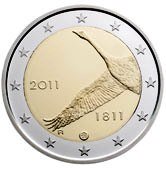 Details relating to the Finnish Commemorative of 2017.
Issue Date: 23.10.2017
Number Minted: 500,000
Mint: Mint of Finland Ltd.
Mint Mark : Lion.
---
This coin is dedicated to Finnish nature.
The design of the coin is very interesting. There is an inner circle with a background that looks like a map. It is a map indeed, but it depicts a portion of the surface of the moon. Very original Finland – possibly the first time ever that a cartographic representation of the moon has appeared on a coin!
Against this background is a bare branch of a birch tree and sitting thereon is a bird – a crow and chosen as a crow is supposedly intelligent and reacts appropriately to changing circumstances - this standing for the mentality of the Finns.
Around the inner circle is a ring within which we see, at nine o'clock, the country designation "FI", at six o'clock the year of issue "2017" and at three o'clock the mint mark.
Return from Finnish Commemorative 2017 to euro coin collector.