Finnish Commemorative 2017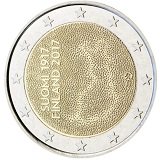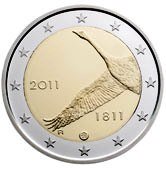 Details relating to the Finnish Commemorative of 2017.
Issue Date: 01.06.2017
Number Minted: 2,500,000
Mint: Mint of Finland Ltd.
Mint Mark : Lion.
---
This coin commemorates the 100th anniversary of Finnish independence.
The design is simple and elegant.
The entire surface of the inner circle is covered with small dots. A number on the right are set a little further apart from one another and are less raised.These indicate the outline of Finland.
On the left hand side of the coin are two bold inscriptions – both vertical:
SUOMI 1917 and FINLAND 2017.
Suomi is the name for the country in Finnish.
Somewhat difficult to make out – on the edge of the inner circle at three o'clock - are the country designation and the mint mark.
Return from Finnish Commemorative 2017 to euro coin collector.