Finnish Commemorative 2016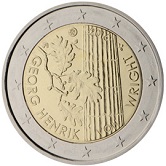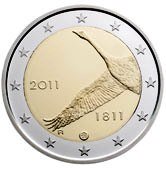 Details relating to the Finnish Commemorative of 2016.
Issue Date: 15.09.2015
Number Minted: 1,000,000
Mint: Mint of Finland Ltd.
Mint Mark : Lion.
---
This coin honours the Finnish philosopher and logician George Henrik von Wright.
His philosophic interests covered analytic philosophy and philosophical logic and he is credited with having created a system of deontic Logic. He greatly admired the Italian Renaissance and classical antiquity.
The oak branch in the inner circle represents wisdom, dignity and power. The three oak leaves represent the disciplines that Wright devoted himself to – Theoretical, Social/ Moral and Cultural Philosophy. The oak branch, leaves and buds are taken together seen to represent the flow of time.
Around the edge of the inner circle, from ten to two o'clock is the inscription: " GEORGE HENRIK VON WRIGHT". The mint mark appears just before twelve o'clock and the year of issue just after.
The country designation "FI" is between eleven and twelve o'clock.
Return from Finnish Commemorative 2016 to euro coin collector.