Finnish Commemorative 2016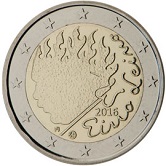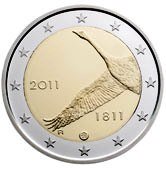 Details relating to the Finnish Commemorative of 2016.
Issue Date: 25.04.2016
Number Minted: 1,000,000
Mint: Mint of Finland Ltd.
Mint Mark : Lion.
---
This coin commemorates the 90th anniversary of the death of Eino Leino.
Eino Leino was a famous Finnish journalist and poet. Leino is held to be the first and most important shaper of national romanticism in Finnish literature.
The rather imaginative motif of the coin shows a profile of Leino formed from a flame and a poker under the profile pointing upwards and towards the right.
Around the edge of the inner circle is Leino's signature – from six to one o'clock.
The year of issue 2016 appears a little in from five o'clock and finally we see the country designation and the mint mark at seven o'clock, to the left and right of the poker handle.
Return from Finnish Commemorative 2016 to euro coin collector.