Finnish Commemorative 2015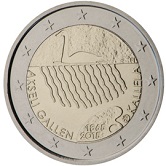 Details relating to the Finnish Commemorative of 2015.
Issue Date: 18.02.2015
Number Minted: 1,000,000
Mint: Mint of Finland Ltd.
Mint Mark : Lion.
---
This coin commemorates the 150th anniversary of the Finnish painter, architect and designer, Akseli Gallen-Kallela. He  is particularly well known for his illustrations from the great Finnish epic poem Kalevala.
In the inner circle two elements from one of these illustrations are shown. The illustration was called "Lemminkäinens Mother". Towards the top of the coin is the Swan of Tuonela. Tuonela was the underworld or realm of the dead in Finnish mythology.
The wavy lines under the swan symbolize the spirits descending to Tuonela. At the bottom is an artist's palette with the date of birth of the Gallen-Kallela and the year of issue.
The issuing country is shown by the FI on the edge of the inner circle at two o'clock and the mint mark is between four and five o'clock.
Finally around the bottom half of the inner circle in a semi circle is the name of the celebrated artist AKSELI GALLEN KALLELA.
Return from Finnish Commemorative 2015 to euro coin collector.